Industrial media converters can help to eliminate Electromagnetic Interference (EMI) and Radio Frequency Interference (RFI), protect from hazardous emissions and prevent extreme temperatures & dust in many industrial environments, like manufacturing, wastewater treatment, outdoor traffic control, security & surveillance, building automation, military application, factory automation, and others. The following descriptions show four typical application scenarios of industrial media converters.
Eliminate EMI & RFI: Point-to-point Architecture in Manufacturing
In some factories or manufacturing areas, several equipments need to be interconnected together. This would produce EMI and RFI that have adverse effects on data transmission across copper-based cabling. In this case, fiber optic cabling is required to eliminate any effect of EMI and RFI on data transmission. The following figure shows the industrial media converters in manufacturing with a point-to-point structure. The media converters are used to enable legacy devices with copper interfaces to connect to optical interfaces for distance extension. The point-to-point architectures feature direct links from the point system chassis to elements on the factory floor.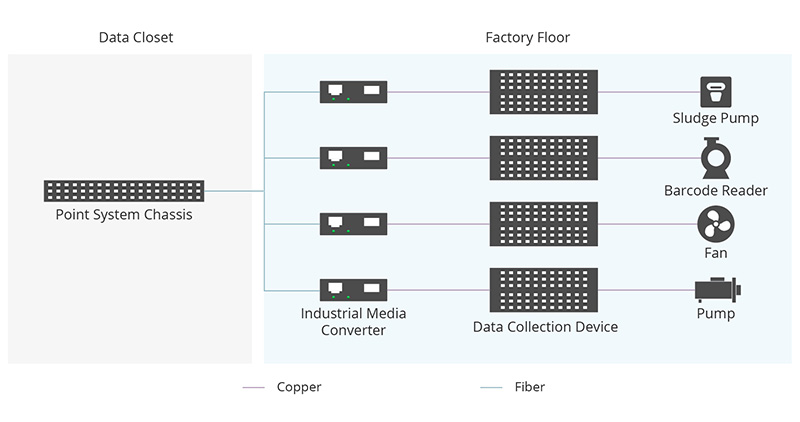 Protect From Hazardous Emissions: Wastewater Treatment Application
Wastewater treatment is necessary for environmental protection to prevent emitting hazardous substances. In such a wastewater environment, the industrial media converters can offer greater control over remote sites. There are legacy PLC (Programmable Logic Controller) stations located at the processing building, maintenance building and a main plant in the following picture. The PLCs have serial interfaces and are connected to a main controller within each building. And the industrial media converters are connected with PLCs to get a centralized control of the wastewater treatment project. This implementation enables the wastewater treatment plant to incorporate their existing equipment, while reducing costs and allowing for future growth.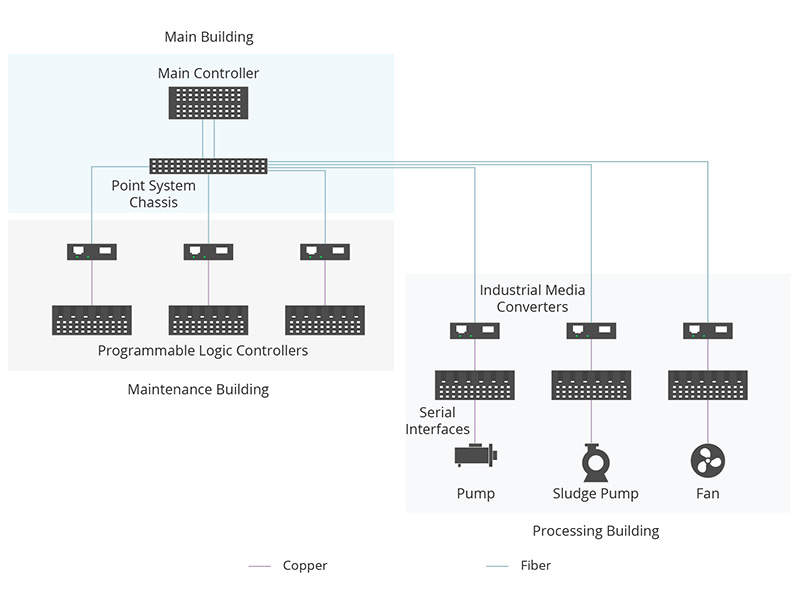 Prevent Extreme Temperatures & Dust: Outdoor Traffic Control Application
Outdoor applications are primarily concerned with temperatures, as elements such as moisture, dirt, and debris are minimized with the use of equipment enclosures. Industrial media converters support a wide operating temperature and come with alloy shells, which are suitable for outdoor networks, such as traffic control, weather tracking and so on. We can see from the figure below, the traffic control systems use coaxial or serial interfaces for the interconnection of outdoor traffic data devices and control center. The video codec in this application converts the analog video signal into an Ethernet signal. Then industrial media converters achieve the copper-to-fiber conversion, a managed industrial media converter chassis located in the data closet at the control center accepts the fiber signal, converts it, and connects to the copper switch at the main site.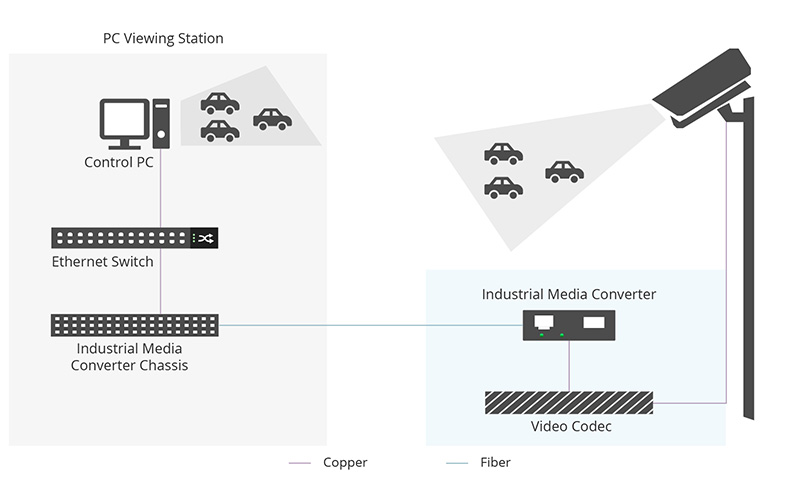 Lightning and Surge Protection: Security and Surveillance Application
Industrial media converters can be applied for monitoring bad conditions as they support surge and lightning protection, which can resist the corrosive exposures. A security and surveillance application is illustrated in the diagram. The WiFi access points are installed on building to provide wireless network for each office. And the point-to-point fiber is terminated with a PoE industrial media converter deployed near a convenient AC or DC power source. Then the PoE industrial media converter transforms the optical signal to electrical signal and simultaneously injects Power over Ethernet with dual RJ45 ports to power two WiFi access points. Then they can offer fiber connectivity and PoE power to IP surveillance cameras to monitor the condition of remote sites. The dual fiber interfaces on PoE industrial media converters enable a fiber daisy chain architecture that connects multiple IP surveillance cameras.