Institute of Electrical and Electronics Engineers (IEEE), Cisco and the HDBaseT Alliance have released several standards to define PoE. These standards include IEEE 802.3af, IEEE 802.3at, IEEE 802.3bt, Cisco UPOE, and Power over HDBaseT (PoH).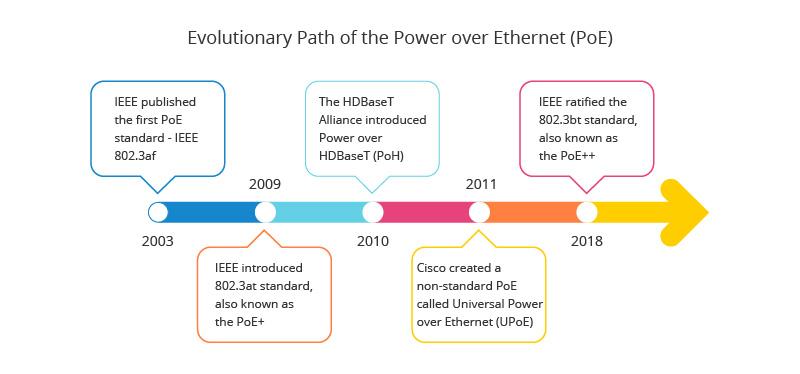 IEEE 802.3af Standard: The IEEE 802.3af standard first defines the requirements for PoE supplying up to 15.4 watts of DC power without affecting the data rate of Ethernet networks. PSE compliant to this standard transmits PoE power over two of the four pairs in 10/100/1000BASE-T networks.
IEEE 802.3at Standard: It is basically an extension to the IEEE 802.3af PoE standard. It is mainly proposed to provide more power to PDs. Backward compatible to the 802.3af PoE, the IEEE 802.3at PoE standard nearly doubles the amount of electrical power to 30W.
IEEE 802.3bt Standard: The IEEE 802.3bt is the latest PoE standard that permits power through a standard Ethernet cable over all four pairs to support the 2.5G/5G/10GBASE-T network. It defines two types of PoE, which are Type 3 and Type 4. Type 3 PoE supplies up to 60 watts power and Type 4 provides up to 100 watts.
Cisco UPOE: UPOE, short for Universal Power Over Ethernet, is created by Cisco. It extends the IEEE 802.3at standard to use all four cabling pairs to supply up to 60 watts power, further expanding the types of devices that can be supported.
Power over HDBaseT (PoH): Introduced by the HDBaseT Alliance, PoH is based on the IEEE 802.3at PoE standard, and can be modified to enable safe delivery of up to 100 watts of DC power over four pairs of Ethernet cable.