Media converters come in a variety of types ranging from standard device, managed device, industrial device to PoE media converters that can not only convert optical signal to electrical signal, but also supply power to the PoE devices over a single Ethernet cable. Below are the examples that adopt the fiber media converter and the PoE media converter.
Fiber Media Converter for CCTV Analog Camera System
The following picture shows a typical analog video structure designed with fiber optic cables and media converters. To connect the fixed analog cameras to the VCR or DVR, a pair of fiber media converters should be added between the server room and cameras. Video signals will be transmitted into fiber optic signals. For analog PTZ cameras, two types of signals should be converted into fiber optic signals, one for video and one for data. Thus, two different media converters or a fiber media converter with the two functions should be installed. It is known that fiber media converters should be used in pairs. As one of the media converters is deployed on the fiber end that near the camera, the other one should be deployed on the other end near the VCR or DVR. For better management, all the fiber media converters near the server room could be installed in a managed fiber media converter rack chassis.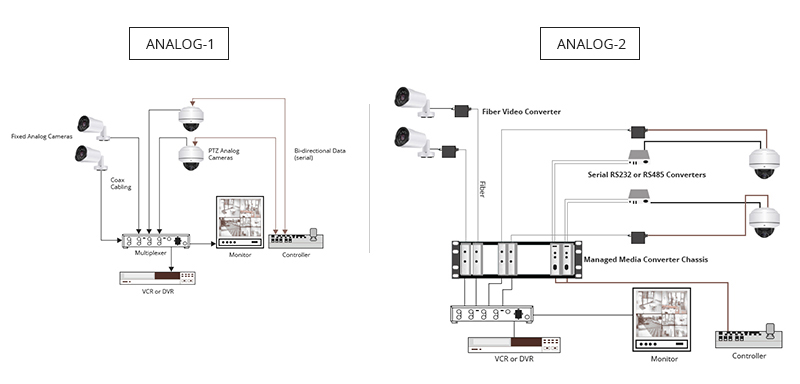 PoE Media Converter for IP Camera System
In the following case (shown in figure 3), PoE IP cameras are used. A pair of PoE media converters should be installed on both ends of a fiber optic cable to achieve the conversion between copper and fiber. At the computer side where the videos are recorded, a pair of Ethernet media converters should be installed. All of the fiber optic media converter for cctv near the network switches can be settled in a managed media converter chassis before connected to the switches.