Some users are under the assumption the IP systems are too complex. Here we take 8-port PoE gigabit managed switch as an example to illustrate how to connect the PoE switch with IP cameras. In this picture, different types of IP cameras, router, and NVR (Network Video Recorder) are connected to the 8-port PoE switch.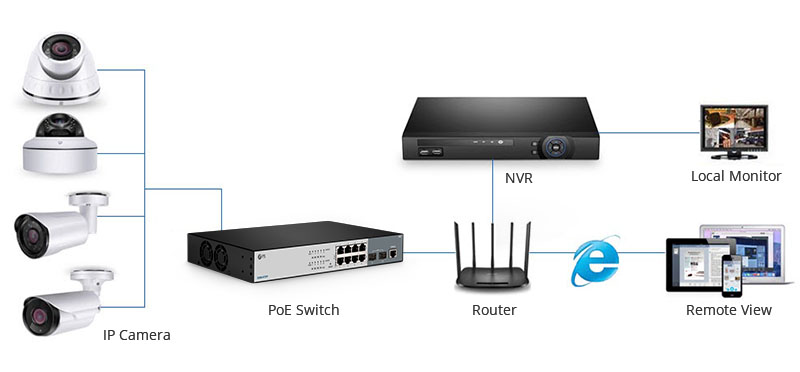 Here are the specific steps for an IP camera system adopting the PoE switch.
Connect the router to the LAN port on the 8-port PoE switch using an Ethernet cable (cat5e or cat6);
Connect the power cable to the PoE switch and to a power outlet or surge protector.
Connect IP cameras to port 1-8 on the PoE switch using the Ethernet cables.
Add the cameras to the NVR to view the cameras and enable recording. If it is required to check the views remotely, connect the router to the Internet.
Note: If you are looking for a PoE switch to be used in harsh environments such as traffic control cabinets, factory floors, and outdoor places where the temperature is extremely low or high, Hansun newly launched industrial PoE switches can be a good choice. These switches comply with IEEE 802.3af/at PoE standards and can automatically detect and provide the required power for your PoE devices. Other than that, they can also withstand a high degree of vibration and shock while operating in harsh environments from -40° to 75°C, which makes them ideal for outdoor surveillance deployment.