Ethernet copper to fiber media converters serve as the most basic type supporting 10/100/1000Mbps or 10Gbps, which are applied to a variety of common scenarios, including point-to-point, high-density fiber distribution and redundant fiber/copper applications.
Point-to-Point Application
Point-to-point connection is a data link between two communication endpoints or nodes. This is the most basic and direct usage. For example, a pair of media converters can be used in point-to-point connections that connect two Ethernet switches (or routers, servers, hubs) via a fiber cable, or to connect switches to the workstation and file server. This application is very simple and efficient, which can be widely used in individual homes or small businesses.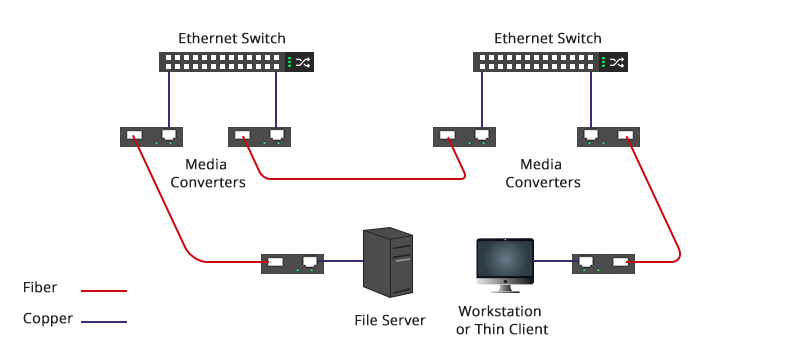 High-Density Fiber Distribution Application
High-density fiber distribution is needed in large data centers, enterprise and campus networks. In these cases, a number of fiber media converters are deployed. For better management and space saving, they are usually installed in a redundant power chassis. In this application example, chassis-based media converters are for high-density fiber distribution from the network core (A). An Ethernet switch (B) is connected to the network core with a standalone media converter via a fiber. Another media converter connects a PC RJ45 port in a fiber-to-desktop application (C). An Ethernet switch (D) is connected directly via fiber to the media converter linked with the core switch (A).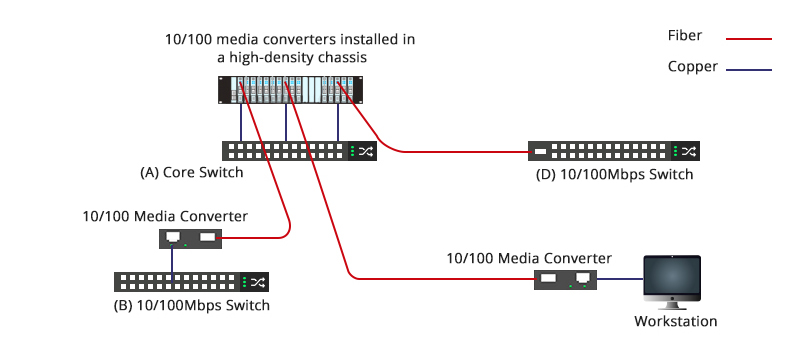 Redundant Fiber/Copper Application
Redundant Ethernet media converters usually have three ports, providing fiber or copper link redundancy. Via the built-in DIP (dual in-line package) switches, the converter can be configured as 2-port redundant mode, which supports auto-recover function. Provided that one cable link is broken, the redundant link is enabled to ensure 100% uptime. They are designed for mission-critical network applications that require fibers or copper links to automatically recover less than 10ms (millisecond), such as ISPs (Internet Service Provider), telecom, hospitals, banks and enterprises. Redundant links can run in parallel paths or geographically diverse paths shown below.