What Are Active PoE and Active PoE Switch?
Active PoE, short for active Power over Ethernet, is also known as standard PoE which refers to any type of PoE that negotiates the proper voltage between the power supply equipment (PSE) and the PD device. Active PoE switch is a device that complies with standard PoE, so it is also named standard PoE switch. This type of switch is rated to be IEEE 802.3af, IEEE 802.3at or IEEE 802.3bt compliant. Thus it can be further divided into PoE, PoE+ and PoE++ switches. Before powering up, the active PoE switch will test and check to ensure the electrical power is compatible between the switch and the remote device. If it isn't, the active PoE switch will not deliver power, preventing any potential damage to the non-PoE device.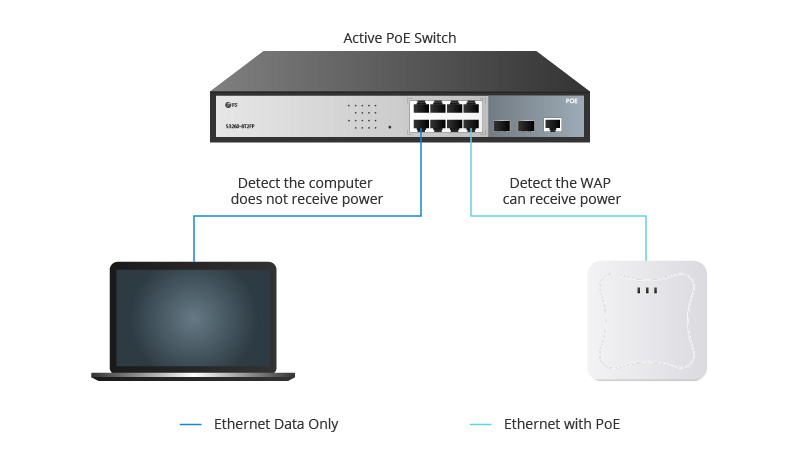 What Are Passive PoE and Passive PoE Switch?
Passive PoE, also known as the passive Power over Ethernet, is a non-standard PoE. It can also deliver power over the Ethernet lines, but without the negotiation or communication process. Passive PoE switch does not adhere to any IEEE standard. The power is "always-on" when using passive PoE switch in networks, which means it always sends electric current out over the Ethernet cable at a certain voltage regardless of whether the terminal device supports PoE or not. So using passive PoE switch may burn out the terminal devices if they're not prepared for electrified Ethernet cables.