As the network gets faster and virtualization gradually becomes the norm, data centers are undergoing a significant transformation. The trend emerging in the industry signifies a migration toward higher-speed transceivers and better service. With the widespread use of 10/25 Gbps, 40 Gbps, and 100 Gbps, high-bandwidth transceivers such as 200G and 400G transceivers are also gaining growing popularity.
10G Transceiver: Moving to the Edge
Initially offered in the early 2000s, 10G optics has matured now to become commonplace in data centers. Basically the 10G Ethernet is stacked to move to 40G and 100G at the access layer, following the upgrade path of 10G-40G-100G, which, however, will quadruple the cabling complexity, power consumption and overall cost. And this will be exacerbated when aggregating into 100G (10×10G) interface.
25G Transceiver: Pave the Road for 100G
So there comes the game changer: 25GbE for better economics and efficiency. SFP28 optical transceiver compatible with SFP+ is designed for 25G Ethernet, delivering 2.5 times higher speed per lane at lower power. As 25GbE makes the road to 100G smoother with reduced cost, lower power consumption and less cabling complexity, some users even plan to skip 10G and directly deploy 25G Ethernet for better scaling to 50G and 100G.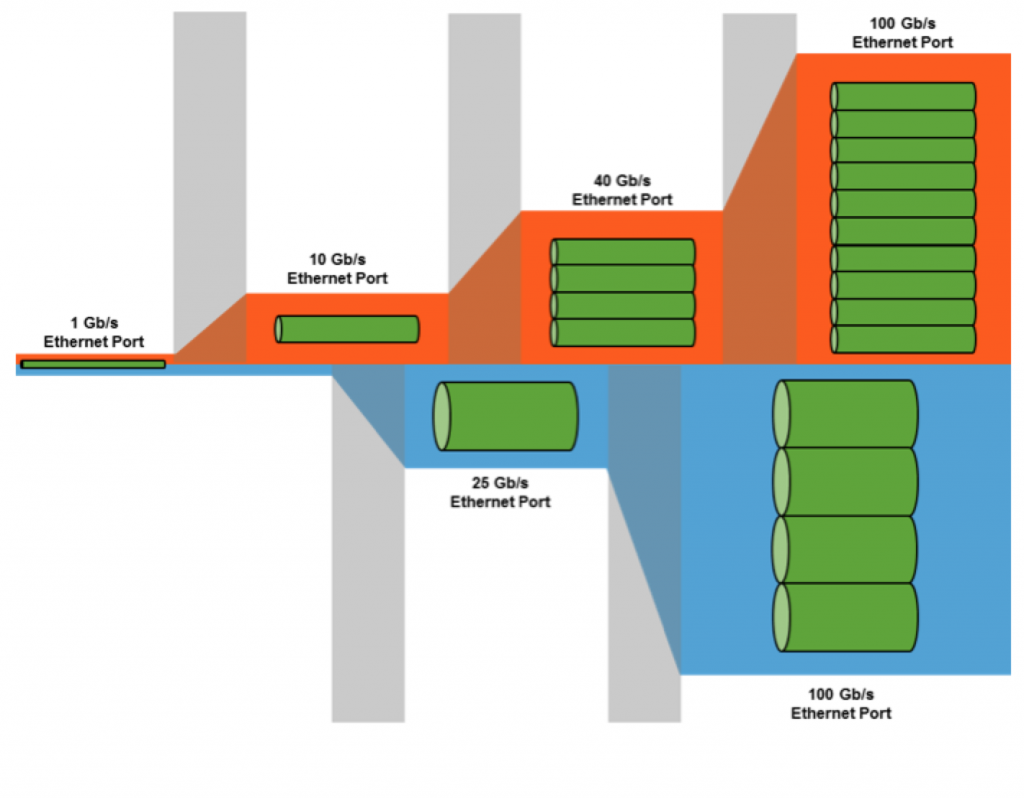 40G Transceiver: Affordable for Mass Deployment
Obviously, 10GbE is no longer fast enough for data centers handling large-scale applications, so 40G is designed to alleviate bottlenecks in the access layer. The cost of 40G is extremely high at first, making the implementation of 40G technology difficult. Luckily, we've seen significant cost reduction of 40G transceivers in the past several years, which accelerates their adoption in aggregation links, or in access links to connect servers.
100G Transceiver: Ramping up in Data Center
Currently 100G are the fastest Ethernet connections in broad adoption, which is growing sustainably. And the optical transceiver market indicates that 100G QSFP28 module price will continue to drop, making the cost difference between 40G and 100G even smaller. Moreover, 25G server and 100G switch became commonplace in most hyperscale data centers that replaced previous 10G servers and 40G switches.