Gigabit Switches Offer Enough Speed for Home Network
At a specific rate such as 10/100/1000Mbps data rate, a wired network is usually more stable than a wireless network. Instead of using Wi-Fi, using a home network switch can provide considerably better speed. And this facilitates those tasks where a good connection with a fast internet is required (gaming, for example).
Similarly, you may get better performance from your 4K streaming device. Therefore, if you use a wired connection with a Gigabit networking switch, your network will get high reliability and strong functionality.
Gigabit Switches Offer More Ports for Home Wired Devices
A home router can usually be used to connect wireless devices like computers and smartphones. However, a Gigabit Ethernet switch is essential if you have several wired devices to connect, such as IP cameras, smart TVs and laptops. The Gigabit Ethernet switch is responsible for directing the bandwidth of your network connection to different home network wired devices.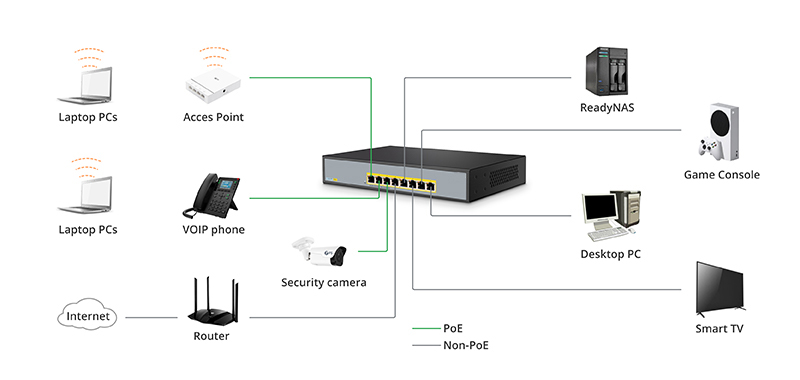 Gigabit Switches Help to Reduce Congestion
If multiple users access the same network device, a Gigabit Ethernet switch will provide more total bandwidth, which reduces network congestion and improves overall performance. In addition, a Gigabit switch is also useful when it comes to large file transfers, for instance, when you perform backups of servers over a network.