Excellent Construction for Industrial Environments
Industrial switches usually adopt hardened construction like rugged enclosure with IP30, IP40, or higher-level protection rating to withstand humidity, shock, vibration and temperature extremes. Some network switches are even equipped with 6KV lightning protection to prevent damage from thunder and lightning in outdoor uses. With a rugged design, industrial network switches can deliver data stably extreme temperatures from -40° to 75°C, while normal network switches can not support that.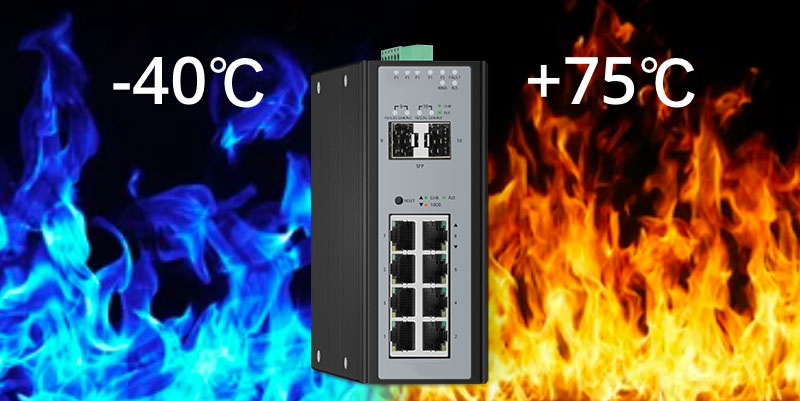 Fast Ring Network, Fast Redundancy
In general, an industrial Ethernet switch is characterized by a fast ring network and fast redundancy.
Redundant Power Supply Design
The power supply is another notable feature of the industrial switch. The industrial network switch usually adopts dual power supply redundancy to avoid power failure which accounts for a large proportion of industrial switch failure rates, guaranteeing a stable and reliable connection in harsh environments.
Flexible Mounting Options of DIN-rail and Wall Mounting
Most industrial switches are available in DIN-rail or wall mounting options for installation. For the option of DIN-rail, it's ideal for efficient use of cabinet space in harsh environments. It also does help in simplifying the installation, the DIN rail industrial switch can be attached to the long metal strips within a standard component rail-mounting system or a standard cabinet rack in an easier way. Besides, an industrial switch with DIN-rail mounting option does help in protecting sensitive electrical equipment.
Fanless Design
Industrial Ethernet switch generally uses a metal casing rather than a fan for faster heat dissipation. Fanless design for the industrial switch can minimize problems with dust and moisture ingress. In this regard, industrial switch ensures long-term reliability in industrial applications.