Industrial PoE switch, 8 Port 10/100Mbps PoE ports + 1 port ethernet uplink , for connecting with devices like computer, switch, hub, server, etc, as well as powering network camera, industrial VoIP phone, wireless AP and other PoE supported devices. Specially designed for harsh outdoor applications. Its 6KV network port surge protection can adapt to harsh outdoor environment and ensure the reliability of the uninterrupted PoE system. Power input also chooses industry-standard types of power.
Specifications:
Specifications:
Model No.
HX208P
10/100BASE-TX Port
8 port RJ-45 auto-MDI / MDI-X
PoE Specification
PoE Standard: IEEE802.3af/ IEEE802.3at
PoE ports:1-4 port support PoE
Power Output:
Max. 15.4 watts (IEEE 802.3af)
Max. 30 watts (IEEE 802.3at)
PoE port Auto detect AF/AT devices
Power Pin Assignment:1/2+;3/6-
Output Voltage: DC48V
Power Type: End-span( Mid-span optional)
Performance Specification
Bandwidth: 1.6Gbps
Packet Buffer Memory:1Mbit
Packet Forwarding Rate:1.2Mpps
MAC Address Table: 2K
Installation
DIN rail
Maximum Frame Size
9000bytes packet size
Flow Control
Back pressure for half duplex, IEEE 802.3x pause frame for full duplex
Enclosure
IP40 aluminum housing
LED Indicator
Power: Red
Ethernet: Yellow
POE: Green
Power Input
48 to 57V DC
Surge protection
±4KV
Network Protocols
IEEE802.3 10BASE-T;
IEEE802.3i 10Base-T;
IEEE802.3u;100Base-TX/FX;
IEEE802.3ab 1000Base-T;
IEEE802.3z 1000Base-X;
IEEE802.3x;
Network cables
10BASE-T: Cat3,4,5 UTP(≤100 meter)
100BASE-TX: Cat5 or later UTP(≤10meter)
1000BASE-TX: Cat6 or later UTP(≤100 meter)
Industry Standard
FCC CFR47 Part 15,EN55022/CISPR22, Class A
IEC61000-4-2 (ESD): ±8kV (contact), ±12kV (air)
IEC61000-4-3 (RS): 10V/m (80~1000MHz)
IEC61000-4-4 (EFT): Power Port: ±4kV; Data Port: ±2kV
IEC61000-4-5 (Surge): Power Port: ±2kV/DM, ±4kV/CM; Data Port: ±2kV
IEC61000-4-6 (CS): 3V (10kHz-150kHz); 10V (150kHz-80MHz)
IEC61000-4-16 (Common mode conduction): 30V (cont.), 300V (1s)
Certification
CE FCC Rohs compliance
MTBF
>300,000hours
Dimensions (W x D x H)
118 x 86 x 33.5 mm
Weight
Product Weight: 0.36KGPacking Weight: 0.46KG
Working Environment
Working temperature: -40~85℃ ;
Storage temperature: -40~85℃
Relative Humidity: 5%~95 %( no condensation)
Warranty
1-year replacement with new item; 3-years for main parts.
Dimensions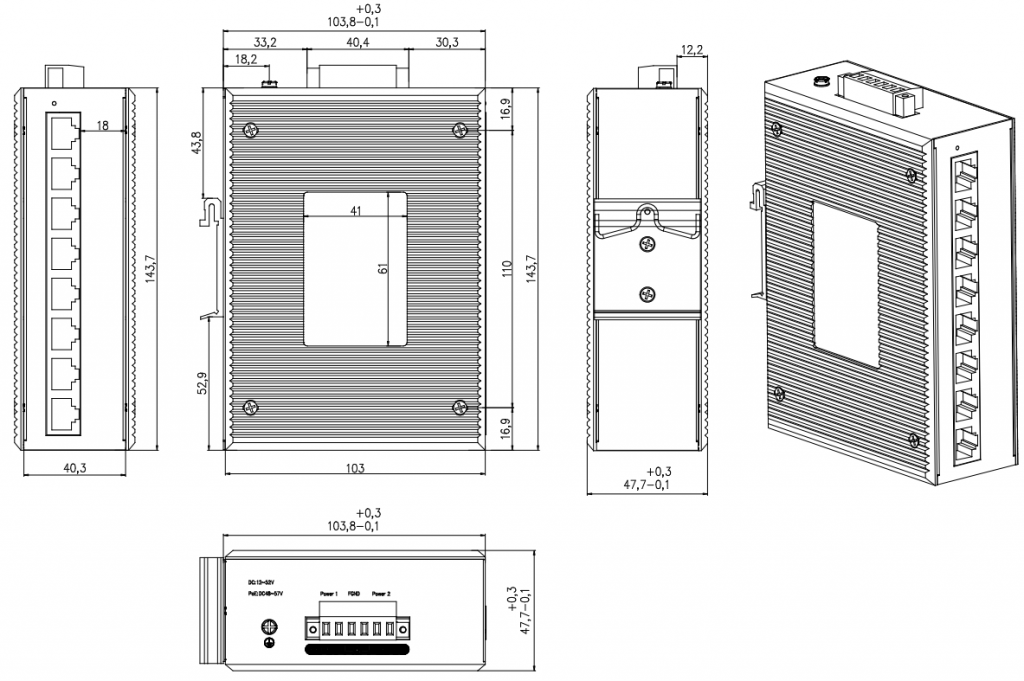 Ordering Information
HX200P-SSC-20
1-Port RJ45(PoE)+1Port SFP/SC/FC/ST (Interface optional ) Industrial PoE Switch, 100Mbps
HX202P-SSC-20
2-Port RJ45(PoE)+1Port SFP/SC/FC/ST (Interface optional ) Industrial PoE Switch, 100Mbps
HX205P
4-Port RJ45(PoE) +1Port RJ-45 uplink Industrial PoE Switch,100Mbps
HX204P-SSC-20
4-Port RJ45(PoE)+1Port SFP/SC/FC/ST (Interface optional ) Industrial PoE Switch,100Mbps
HX204P-2SFC
4-Port RJ45(PoE)+2Port SFP/SC (Interface optional ) Industrial PoE Switch,100Mbps
HX208P
8-Port RJ45 Industrial PoE Switch,100Mbps
HX208P-SSC-20
8-Port RJ45+1Port SFP/SC/FC/ST (Interface optional ) Industrial PoE Switch,100Mbps
HX206P-2SFC
6-Port RJ45+2Port SFP Industrial PoE Switch,100Mbps
HX209P
8-Port RJ45 +1Port RJ45 uplink Industrial PoE Switch,100Mbps
Power supply (optional)
HX54825-DC
DC 48V/2.5A, suitable for 1-8Port PoE Industrial switch
HX55223-DC
DC 52V/2.3A, suitable for 1-8Port PoE Industrial switch