Distance extending Slim Type with more Practicability and Convenience
HANXIN HX2000P 10/100/1000Base-TX to 1000Base-FX Industrial Media Converter, extends communication distance with stable performance via fiber optic wire, in which the extended distance could be up to 2km with the HX2000P-MSC-2, up to 20km with the HX2000P-SSC-20 .
The HX2000P series is specifically equipped with durable components and strong housing case to operate reliably in electrically harsh and climatically demanding environments. The industrial level media converter provides a high level of immunity to electromagnetic interference and heavy electrical surges which are usually found on plant floors or traffic control cabinets on sidewalk. Being able to operate under the temperature range from -40℃ to 85℃ allows the HX2000 series to be placed in almost any difficult environment.
HX2000P 10/100/1000 Base-TX to 1000Base-FX Industrial Media Converter series efficiently converts data between 10/100Base-TX and 100Base-FX network. The HX2000P series provides the flexibility to all kinds of 10/100/1000 Mbps Ethernet Media on RJ-45 port and performs highly stable fiber performance.
The HX2000P series is packaged in a compact IP40 case that allows either DIN rail or panel mounting to have efficient usage of cabinet space. It provides an integrated power supply with a wide range of voltages for worldwide operation. It also offers dual-redundant, reversible polarity 12V DC to 52V DC power supply inputs for high availability applications requiring dual or backup power inputs.
Specifications:
Model No.
HX2000P-MSC-2/HX2000P-SSC-20/HX2000P-SFC
10/100Base-TX Port
1 port RJ-45 auto-MDI / MDI-X
PoE Specification
PoE Standard: IEEE802.3af/ IEEE802.3at
PoE ports:1-port support PoE
Power Output:
Max. 15.4 watts (IEEE 802.3af)
Max. 30 watts (IEEE 802.3at)
PoE port Auto detect AF/AT devices
Output Voltage: DC48V
Power Pin Assignment:1/2+;3/6-
Power Type: End-span( Mid-span optional)
1000Base-FX Port
HX2000P-MSC-2 : 1 SC interface
HX2000P-SSC-20 : 1 SC Interface
HX2000P-SFC : 1 SFP Slot
Fiber Port Type
HX2000P-MSC-2 : SC / multi-mode ,up to distance 2km ;
HX2000P-SSC-20 : SC / single-mode ,up to distance 20km ;
HX2000P-SFC : Vary on module
Optical Frequency
HX2000P-MSC-2 1310nm
HX2000P-SSC-20 : 1310nm
HX2000P-SFC : Vary on module
Performance Specification
Bandwidth: 14Gbps
Packet Buffer Memory:1.2Mbit
Packet Forwarding Rate:10.5Mpps
MAC Address Table: 2K
Installation
DIN rail
Maximum Frame Size
9000bytes packet size
Flow Control
Back pressure for half duplex, IEEE 802.3x pause frame for full duplex
Enclosure
IP40 aluminum housing
LED Indicator
Power: Red
Fiber: Link 2(Green)
Ethernet: Yellow
Power Input
48 to 57V DC redundant power
Power Consumption
< 3 watts
Surge protection
±4KV
Network Protocols
IEEE802.3 10BASE-T;
IEEE802.3i 10Base-T;
IEEE802.3u;100Base-TX/FX;
IEEE802.3ab 1000Base-T;
IEEE802.3z 1000Base-X;
IEEE802.3x;
Network cables
10BASE-T: Cat3,4,5 UTP(≤100 meter)
100BASE-TX: Cat5 or later UTP(≤10meter)
1000BASE-TX: Cat6 or later UTP(≤100 meter)
Industry Standard
FCC CFR47 Part 15,EN55022/CISPR22, Class A
IEC61000-4-2 (ESD): ±8kV (contact), ±12kV (air)
IEC61000-4-3 (RS): 10V/m (80~1000MHz)
IEC61000-4-4 (EFT): Power Port: ±4kV; Data Port: ±2kV
IEC61000-4-5 (Surge): Power Port: ±2kV/DM, ±4kV/CM; Data Port: ±2kV
IEC61000-4-6 (CS): 3V (10kHz-150kHz); 10V (150kHz-80MHz)
IEC61000-4-16 (Common mode conduction): 30V (cont.), 300V (1s)
Certification
CE FCC Rohs compliance
MTBF
>300,000hours
Dimensions (W x D x H)
118 x 86 x 33.5 mm
Weight
Product Weight: 0.36KG
Packing Weight: 0.46KG
Working Environment
Working temperature: -40~85℃ ;
Storage temperature: -40~85℃
Relative Humidity: 5%~95 %( no condensation)
Warranty
1-year replacement with new item; 3-years for main parts.
Dimensions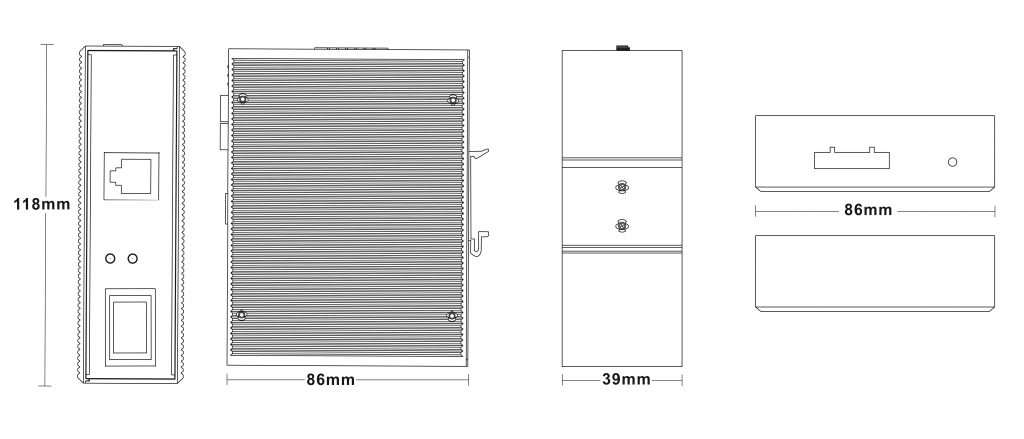 HX2000P-MSC-2

10/100/1000Base-TX (PoE)to 1000Base-FX ,Multi-Mode (1310nm) ,Duplex,SC 2km

HX2000P-SSC-20

10/100/1000Base-TX (PoE) to 1000Base-FX ,Single-Mode (1310nm) ,Dual,SC 20km

HX2000P-SSC-20A

10/100/1000Base-TX (PoE) to 1000Base-FX,Single-Mode (Tx1310nm/Rx1550) ,Single,SC 20km

HX2000P-SSC-20B

10/100/1000Base-TX (PoE) to 1000Base-FX,Single-Mode (Tx1550nm/Rx1310) ,Single,SC 20km

HX2000P-SFP

10/100/1000Base-TX (PoE) to 1000Base-FX, (SFP Slot)

Power supply (optional)

DC 12V/1A,suitable for non-PoE Industrial switch

DC 24V/1A,suitable for non-PoE Industrial switch

DC 52V/1A,suitable for 1-Port PoE Industrial switch, or non-PoE Industrial switch