The initially published IEEE802.3af standard has divided Power over Ethernet (PoE) technology into two main power device types: power sourcing equipment (PSE) that provides power on the Ethernet cable and powered device (PD) that accepts the power. To get a better understanding of the PoE network system, it is necessary to get familiar with the PoE devices. This post will focus on the common PoE PSE devices and clarify their applicable scenarios.
PoE PD vs PSE: What Is PoE PSE?
As mentioned above, PoE PDs are PoE devices that can get powered in a PoE network system. The common PoE PDs include numerous terminal devices such as IP phones, IP cameras, wireless access points (WAPs), etc. The PoE PSE, which supplies power, however, is limited to fewer products when comparing PoE PD vs PSE. The main PSE types in use today are PoE switch, PoE injector, PoE NVR, and PoE media converter. The concrete PoE PSE type in a network is chosen based on the infrastructure and the number of PDs which will be connected to. In addition, PoE splitter is also commonly used as an intermediary device to supply power in the PoE network even though it does not belong to the PoE PSE device.
PoE PSE Introduction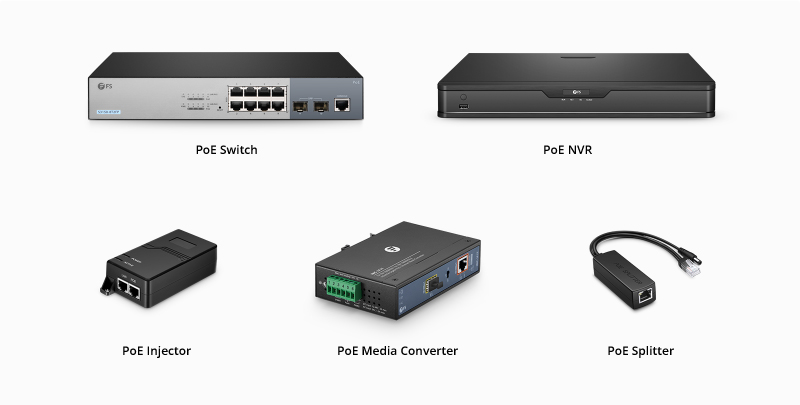 · PoE Switch: PoE network switch is a network switch that has PoE injection built-in. Therefore, it can transmit both data and power over one Ethernet cable to the PD directly connected to it.
· PoE Injector: For adding PoE to regular non-PoE network links, a PoE injector is used. It injects power to data that is coming from a non-PoE switch and delivers both the power and data to the PD through an Ethernet cable.
· PoE NVR(PoE network video recorder): PoE NVR has PoE injection built-in. Mostly used in the IP video surveillance system, it is responsible for encoding and processing the video data on IP video cameras, and recording it for storage and remote viewing. PoE NVR can also deliver power to IP video cameras through Ethernet cables.
· PoE Media Converter: PoE media converter is a device that not only connects fiber cabling to a copper network but also provides PoE power to PoE PD such as IP cameras and VoIP phones.
· PoE Splitter: The PoE splitter can also supply power, but it delivers power to a non-PoE terminal device by splitting power from the data and feeding it to the non-PoE device through its power supply cable. It is used for deploying remote non-PoE devices with no nearby AC outlets.