According to different features, the PoE market can be further divided into various segments:
By Types: In terms of PoE types, there are power sourcing equipment (PSE) & powered device (PD). Technically, a PSE like a PoE switch is used to connect PDs like VoIP phones to supply power and data simultaneously. With a PSE, the need for separate power supply devices for each PD can be eliminated greatly. The PSE segment is expected to hold the PoE market share of over 40% by 2025 as this equipment is widely used to meet the power requirements of the PDs.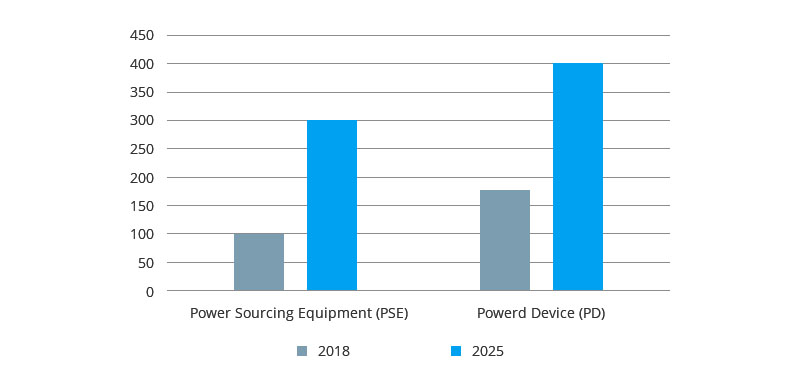 By Power to Port: Based on specified power over Ethernet standards, such as IEEE802.3af or IEEE802.3at, there are four types of PoE wattage per PSE port available in the market: up to 15.4W, up to 30W, up to 60W, and up to 100W.
By Device: To realize a wide range of applications, the PoE devices have kept upgrading all the time. PoE devices like PoE switch, PoE injector, IP camera, VoIP phone, and WAPs are the top five popular devices. According to the Power over Ethernet market forecasts from the Dell'Oro Group, the PoE devices like WAP and the PoE lighting will be the two largest driving forces for the PoE industry in the upcoming 10 years.
By Application: In all kinds of PoE applications, the IoT connectivity, access control & security, lighting control, and infotainment hold the four largest PoE market shares. The IoT connectivity application segment held a major portion of the Power over Ethernet solutions market share in 2018 and is expected to dominate the market with a share of over 30% in 2025.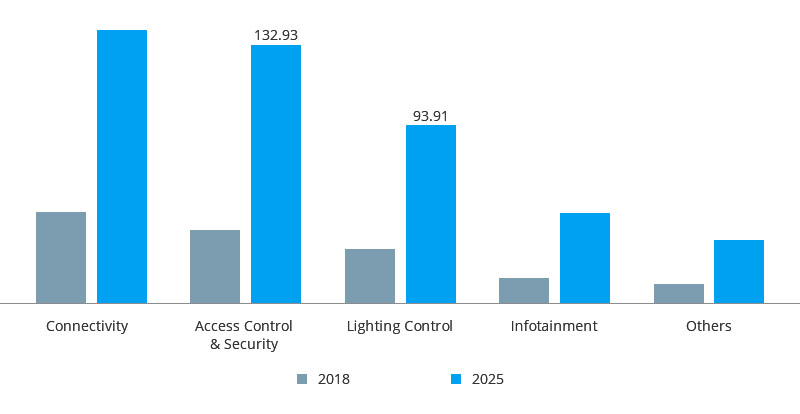 By End-User: In the PoE end-user market, industrial, commercial, and residential markets can be found. In these three markets, the industrial PoE market is expected to hold a dominant share of around 40% in 2025 due to the rising demand for PoE solutions in the industrial sectors such as energy, oil & gas, telecom, and automotive & transportation.