Optical modules must be operated in a standardized manner. Any non-standard operation may result in implicit damage or even permanent failure.
Physical Protection
Handle optical modules gently and protect them from falling.
When installing an optical module, push it gently by hand. When removing an optical module, unlatch it first. Never use any metal tools during installation and removal.
Use a dedicated cotton swab to clean an optical bore and do not insert any metal object into it.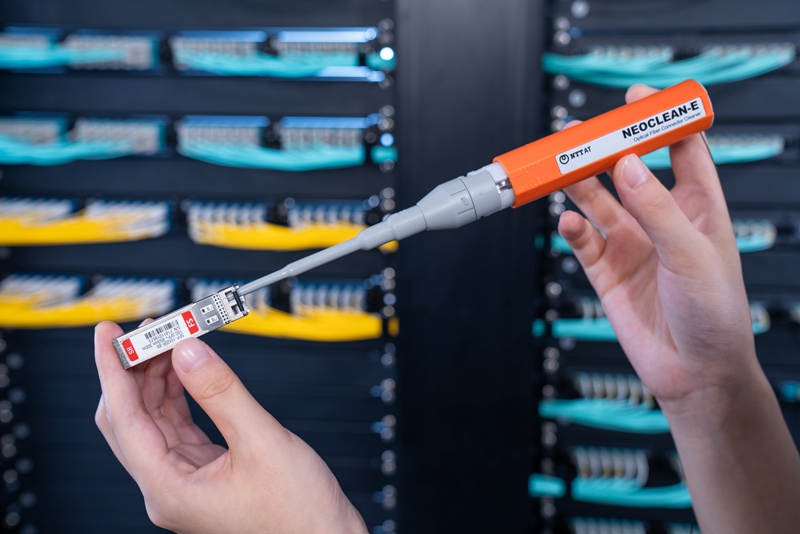 ESD Prevention
When you transport optical modules, ensure that they are in ESD packages, and do not take them out unless necessary or place them at random.
Before touching an optical module, wear an ESD wrist strap or ESD gloves. Take full ESD measures when installing it.
Ensure that a device is properly grounded before you test or use it.
When plugging in and out non-hot-swap optical module, you should cut off the power.
Avoid Mixed Using
The multimode module uses multimode fiber, while single mode module uses single-mode fiber, mixed using will cause signal loss and other failures.
All SFP modules should be used in pairs. However, for simplex/BiDi SFPs, we should use two SFPs that have opposite wavelengths for transmitter and receiver.
Ordinary SFPs and CWDM/DWDM SFPs can not be mixed using.
For long-reach SFPs, because its average output optical power is generally higher than its maximum input optical power, we should pay attention to the length of the optical fiber when installing it. If the condition is not met, then the 10-20db optical attenuator must be used.
SFP module's power supply mode is 3.3V. The module will be burnt out if the voltage is increased.
When the lower-rate SFP module is used in the higher rate SFPs, error code and video failure will occur. The higher rate SFP module is used at a lower rate, and the transmission distance will be limited.
Ensure compatibility match well, all the transceivers have actually a burned-in chip containing information including the serial quantity, the safety information, plus the vendor ID. If the information cannot match what exactly is within the database, these devices will undoubtedly be handicapped making these devices stop working.