Energy Efficient Ethernet (EEE)
Energy Efficient Ethernet, short for EEE, is a technology defined as IEEE 802.3az to reduce switch power consumption during periods of low network traffic, aiming to reduce power consumption by more than 50 percent while remaining fully compatible with existing devices. It is also sometimes known as Green Ethernet. In addition to the link load power savings of Energy-Efficient Ethernet, Green Ethernet works in one of two ways. To begin with, it detects link status, allowing each port on the switch to power down into a standby state when a connected device is not active. Second, it detects cable length and adjusts the power used for transmission accordingly. Note that you have to make sure that the device port and connecting device must support 802.3az EEE when choosing a PoE switch.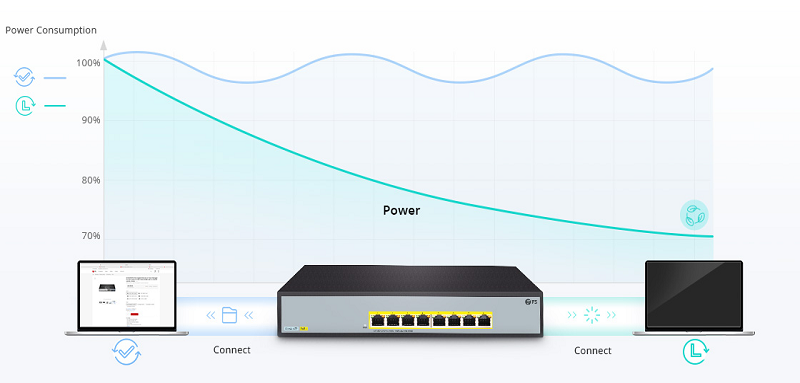 Use Intelligent PoE
Using intelligent PoE is another effective way to reduce the energy consumption of switch so as to deliver better ROI for businesses. Intelligent PoE can automatically detect the power consumption status of each Power Device and supply the power the PDs require. And if the connected device is a non-PoE device, this intelligent PoE switch will not send power, which can protect the not-PoE device. By using intelligent PoE technology to minimize the waste of unused power, enterprises can save a lot of money on electricity cost.