Fast Ethernet Switch: Still Can Be Used As Desktop Switch
Fast Ethernet is also known as the updated version of the original Ethernet that further enhances the speed of Ethernet – It pushed the transfer rate of Ethernet from 10 Megabit per second (10 Mbps) to 100 Megabits per second (100 Mbps). The Fast Ethernet switch supports the 10/100 protocol which is capable of working at 100 megabits per second. Typically loaded with RJ45 ports, the Fast Ethernet switch works over Cat5 cables to connect PCs, servers, routers etc. Many Fast Ethernet switches also feature high speed uplink ports where copper/fiber modules can be used to connect fiber optic or UTP cabling supporting speeds of 1Gbps or more.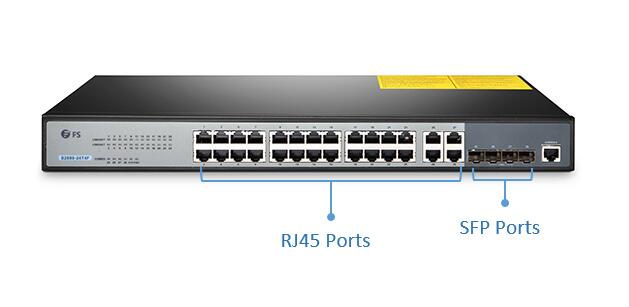 Gigabit Ethernet Switch: Address Bottleneck at the Network Edge
The Gigabit Ethernet is ten times faster than its predecessor, Fast Ethernet. It is designed to address the high speeds needs of internet service providers today. Gigabit Ethernet switch, therefore, refers to the kind of Ethernet switch that operates at Gigabit Ethernet speeds – that is theoretically up to 1 Gigabit per second (Gbps) (1000 Mbps). It is also backward compatible with the legacy 10/100 standard. Usually built with multiple RJ45 interface and/or SFP slots, the Gigabit Ethernet switch works well using twisted pair copper cable (specifically, the cat5e and cat6 cables that follows the 1000BASE-T cabling standard), as well as SFP optical transceivers working on corresponding patch cable types. It's common that some Gigabit Ethernet switches also have a couple of 10G SFP+ ports for uplinking a higher speed 10GB switch.