Do I Still Need a PoE Injector if I Have a PoE Switch?
No, you don't need a PoE injector when you have a PoE switch. When you are running through a standard PoE switch, you will not need the power connection. In this case, no injector is needed. But if you have a non-PoE switch, you will need a PoE injector to power the PoE PD such as IP cameras, because non-PoE switches do not deliver power to PoE devices. However, it should be noted that PoE injectors are only suitable for PoE networks with only a few PDs. If there are dozens of PDs, the PoE switch is a better choice.

Can I Use a PoE Switch with NVR?
Yes, you can. A PoE switch will act as a hub but can also supply power to NVR, without the need for an external power source or extra power wires. This makes for less installation cost and cabling complexity – you can handle your power and video over a single Cat5 cable.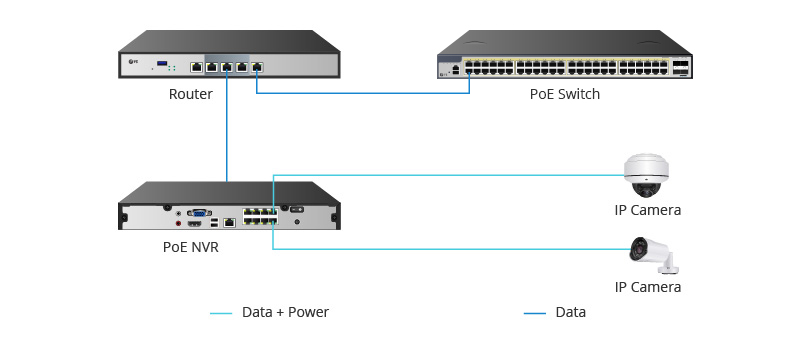 Can I Use a Media Converter with PoE Switch?
Yes. As we know, the PoE switch restricts Ethernet cable distances to 100m. Then how do we get beyond the 100m limit? A PoE media converter is an ideal product to overcome the distance challenge by offering a copper to fiber connectivity solution and acts as the PoE PSE on the copper side to power up PDs at the same time.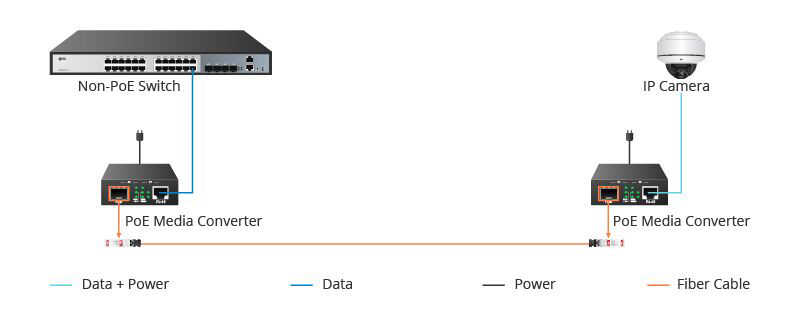 Can You Use a PoE Splitter as a PoE Injector?
No, you can't. PoE splitters and PoE injectors are two types of PoE devices that confuse people a lot. As mentioned above, PoE injectors are used with non-PoE switches to power terminal PoE devices. PoE splitters, on the contrary, are used with PoE PSE and separate the data and power onto two different cables for non-PoE devices. The following figure illustrates common applications of the PoE splitter and PoE injector: