CWDM and DWDM are both effective methods to solve the increasing bandwidth capacity of information transmission at present. But they differ from each other in many aspects. Below parts will introduce some differences between CWDM and DWDM systems.
CWDM vs DWDM: Channel Spacing
The channel spacing is defined to be the nominal difference in frequency or wavelength between two adjacent optical channels. CWDM has a wider spacing than DWDM. It is able to transport up to 18 CWDM wavelengths with a channel spacing of 20nm in the spectrum grid from 1271nm to 1611nm. DWDM can carry 40, 80, or up to 160 wavelengths with a narrower spacing of 0.8/0.4nm (100 GHz/50 GHz grid). Its wavelengths are from 1525nm to 1565nm (C band) and 1570nm to 1610nm (L band).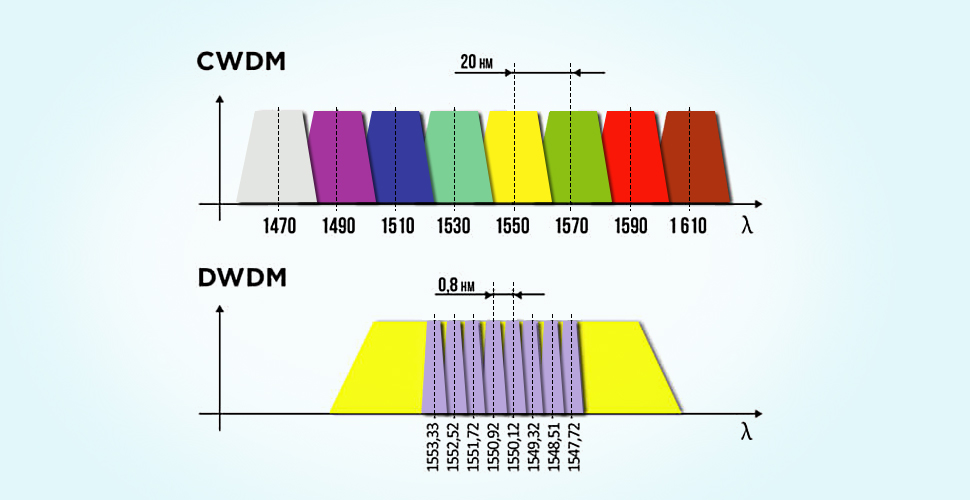 CWDM vs DWDM: Transmission Distance
Since DWDM wavelengths are highly integrated with the fiber during light transmission, DWDM is able to reach a longer distance than CWDM. Unlike the DWDM system, CWDM is unable to travel unlimited distances. The maximum reach of CWDM is about 160 km. While an amplified DWDM system can go much further.
CWDM vs DWDM: Modulation Laser
CWDM system uses the uncooled laser while the DWDM system uses the cooling laser. Cooling laser adopts temperature tuning which ensures better performance, higher safety, and longer lifespan of the DWDM system. But it also consumes more power than the electronic tuning uncooled laser used by a CWDM system.
CWDM vs DWDM: Cost
Because the range of temperature distribution is nonuniform in a very wide wavelength, so the temperature tuning is very difficult to realize, thus using the cooling laser technique increases the cost of the DWDM system. Furthermore, the DWDM devices are typically four or five times more expensive than that of a CWDM system. However, the price of a DWDM transceiver is about 20-25% less than a CWDM transceiver on account of the popularization of DWDM.